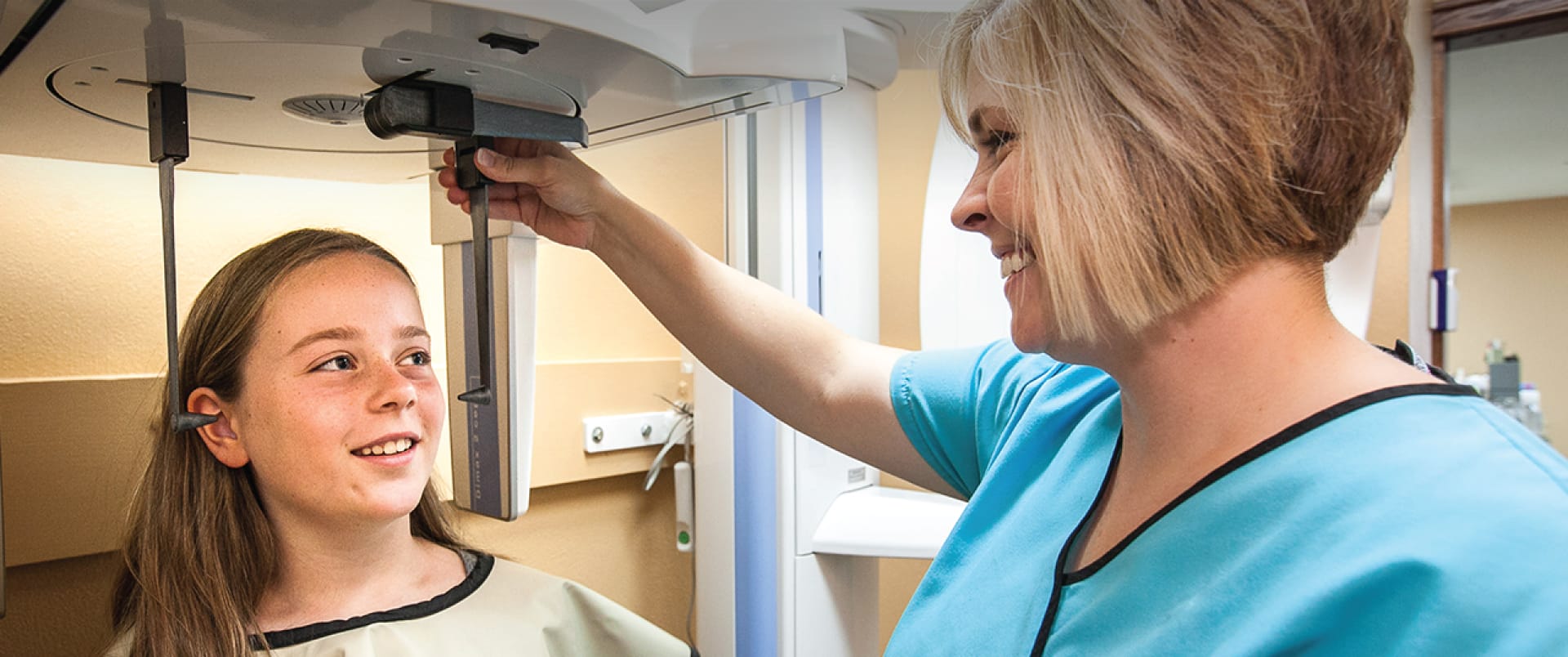 WHAT TO EXPECT
AT YOUR FIRST VISIT
Please download and complete either the Adult Health History Form or the Child Health History Form and bring it to your complimentary examination appointment.
At the initial appointment patients (and parents) are given an opportunity to meet the doctor, talk about any concerns and ask questions. The doctor will do a thorough clinical examination and assess the need for treatment. If treatment is not indicated at this time, the patient will be scheduled for complimentary recall appointments to monitor growth and dental development to determine the need for future treatment.
If treatment is indicated, the patient will be set up for a records and consultation appointment. The records appointment consists of obtaining diagnostic information by taking digital x-rays of the teeth and jaw, photos of the face and teeth and impressions (molds) of the teeth.
The consultation appointment involves reviewing the diagnostic records with the patient (and parents, if a minor), defining the problems and then discussing the treatment options and presenting a definitive treatment plan. After presenting the treatment plan, appointments are then set up to start active treatment, which involves placing braces, clear aligners, or other appliances.
WHAT HAPPENS DURING TREATMENT?
Once active treatment starts, expect appointments at two- to eight-week intervals, depending on the specific plan of treatment. During the active orthodontic treatment phase we want our patients to continue seeing their general dentist for routine checkups and care.
COMPLIANCE IS AN EXTREMELY IMPORTANT COMPONENT OF THE SUCCESSFUL COMPLETION OF YOUR TREATMENT! Making it to appointments, maintaining excellent oral hygiene, eating the right foods and following the doctors' instructions help achieve an excellent result in the timeliest manner.
Length of treatment can vary greatly depending on each patient's specific orthodontic problem and how compliant the patient is.
When active treatment is complete and all appliances are removed, every patient is given retainers and instructions on wear, which are important for maintaining the final orthodontic result.
FEES
Orthodontic treatment is a significant investment in time and money, but the benefits last a lifetime. The cost of orthodontic treatment is based on an individualized diagnosis and treatment plan.
PAYMENT OPTIONS
Our goal is to provide excellent orthodontic care for a reasonable fee. Remember, the initial orthodontic consultation is complimentary. If treatment is needed, we offer affordable payment options:
– Pay in full with cash or check and receive a 5% discount.
– Monthly payment plan with no interest or finance charges.*
*This plan offers an initial down payment when appliances are placed, with the remaining balance due in interest-free monthly payments.
INSURANCE
Many dental insurance plans provide orthodontic coverage. Please check with your individual insurance company to find out if you are covered. Our office will file all orthodontic insurance claims for you.